"The choices we make change
the story of our life." ©
Monday, April 03, 2006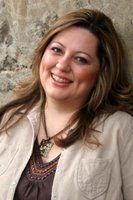 In the last few years as more of my books have hit the store shelves, I'm often asked to share my "secret" of this success. I'll do this by sharing my story of how God chose to use me.
In 1999, I was twenty-eight years old and had already published over one hundred articles for national publications. I'd also been contracted to work on two book projects for well-known publishers. Still, I felt far from successful. For five years I'd labored full-time on my own book projects with no luck.
My agent didn't understand. "These are excellent proposals," she said. "I don't understand why they're not being snatched up."
I just have to try harder, write more,
I thought. It didn't help.
Around that time, I started going through the workbook
Experiencing God
by Henry Blackaby. I learned one phrase that kept going over in my mind. "Look to see what God was doing and join Him."
The premise is this: if you're doing something that doesn't work, put what you're doing aside and see what God was doing. I made a
U-Turn
from my own goals, dreams, and striving, and I decided to follow wherever God led. I soon discovered why all the doors had been shutting on my dreams . . . God had different plans than mine!
First, my grandfather was diagnosed with cancer. I invited him into our home. Between doctor's appointments, hospice visits, taking care of my husband and three children, there was little time to pen prose. My grandfather passed away after only four months, but inside I was changed. It was as if my heart had been rubbed raw with sandpaper. My eyes were opened to pain, and I had a new appreciation for helping those in need.
A few months after my grandfather's death, my pastor and two women in the church approached me about starting a Crisis Pregnancy Center. (There wasn't one for hundreds of miles.) I didn't want to do it, but I told my pastor I'd pray about it.
The next morning I did pray. I told God. "Lord, I can't help with this center. I'm a writer and my articles are helping people around the country."
His response was (I felt it deep in my heart), "Well, what about the people in your own community? What are you going to do to help them?" Ouch.
Obviously this was something God was doing, so I joined Him and
Hope Pregnancy Center
was born.
Soon, I was using my writing and organizational skills to create community newsletters, to write radio commercials and grants, and to introduce our services to the community. In one year, we had a huge center (given to us for free rent), forty volunteers, and we were reaching hundreds of women. We even received a $13,000 grant to teach abstinence education in the schools!
Even though it was clear God was at work, at night I often felt drained by the number of young women who needed assistance--who needed hope--yet, I also felt a renewed sense of satisfaction. Obviously God was at work. I was glad I'd joined Him.
After that, I started getting new assignments for magazines, writing about pregnancy centers, finding forgiveness after abortion, and other related issues.
When our center was two years old, we hired a director who oversaw everything. I focused my time on working with the young moms. We had helped these young moms make a decision for life, now I knew we needed to help them with their parenting. I started a support group for young moms called
Teen MOPS
. It's part of the bigger
MOPS (Mothers of Preschoolers)
organization. While working with these young moms, I tried to find Christian resources just for them. I couldn't find any! So I worked on a proposal, registered for the MOPS convention, and my agent set it up for me to meet with a few MOPS editors while I was there.
That first convention in 2002, I attended alone. I remember sitting among 3,500 women and saying, "One of these days I want to be on that stage talking about Teen MOPS." In 2003, just one year later, I had a contract for
Life Interrupted: The Scoop on Being a Teen Mom
. I've also written a
FREE leaders guide
for those who work with teen moms. As a bonus, Life Interrupted was a finalist for the Gold Medallion book award.
Is that just God, or what?
Obviously God was at work. I'm just so glad I joined Him! But that's not all God was up to...
A year after I helped launch Hope Pregnancy Center, I was invited to take a trip to Europe with my two writing friends. One day, after visiting Mauthausen Concentration Camp in Austria, the true events of WWII inspired a new novel idea.
After arriving home, I poured the story onto the paper, writing from the perspective of a Nazi wife forced to witness the horrors of a death camp, yet felt powerless to do anything about it until she finally took one step of faith. The story was different from than anything I'd written before. It was so much deeper, heart-wrenching. It expressed a young woman's helplessness and pain--things I'd recently learned about on deeper levels.
Within nine months, my agent called. I had a contract for my first novel,
From Dust and Ashes
(Moody Publishing). It was released January 2003. More novels and other books followed . . . but I'll save those stories for the upcoming blogs.
Before
Experiencing God
, I wanted to serve God with all my heart. After
Experiencing God
, I asked God to show me His heart and I submitted my desires to Him.
I don't think these successes are a coincidence. For years as freelancer I thought I was doing it all right. I followed all the formulas and kept "pounding out the words." And although those words sounded good on paper, something more was needed before they became alive on the page.
God knew for me that something more was to experience "God at work" with those hurting and in need. That was the
U-Turn
He'd planned for my writing all along. It was only then that I had something worthy to share.
Today, my sandpapered heart now bleeds onto the page, and I'm able to connect in a new way with readers who often find themselves helpless, hurting, and in need of hope. I've also come to learn that God's plans for my life does not center around writing or publishing. That's simply one tool He chooses to use. God's plans for my life is instead centered around His desire to reach people for Him. I'm just thrilled He's allowed me to become part of the process.
If God were to close the doors to all my writing and publishing, then I can honestly say I'd trust Him with that. He's shown me that He has big dreams and big plans for those who follow hard after Him. And I'm going to follow wherever that leads!
Tricia Goyer